SoundSmithTF2
Composer and Sound Designer. Plays TF2 (poorly)
Casual
Texas, United States
English language
1y 7m

Heavy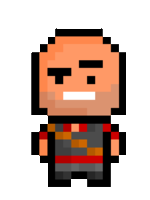 Description
The sound guy.
Unusuals ~351 keys in total


130

85

60

34

14

13

12

2.8
Maps reviewed/played showing last 4
Channel trailer
Medal cabinet
Community medals





Random picks (0)
None yet.
Collaborations
Worked together with these TF2 YouTubers to create a video.
Like muselk, but worse.
Team Fortress 2 videos documenting the popular YouTuber: Jig...
British lady who does art/animation videos & the occasional ...
TF2 video gamer. I own 50+ pairs of socks.
yeet level high
watch me get mad at video games
english man who plays spy in prem
Your friendly neighbourhood scientist TF2ber Teemo!
Luckiest TF2 Player on youtube!
Hello! I am a student, who in his spare time is also a TF2 P...
Not your everyday schmuck
TF2 - Edited montages, awesome moments, update videos, songs...
I like to think I'm funny.
Fuck why isn't TF2 a dead game
I don't post a lot, but when I do post I generally put a lot...
Videos
View the last videos created by this content creator.